Corporate German Teacher/Lecturer (part-time)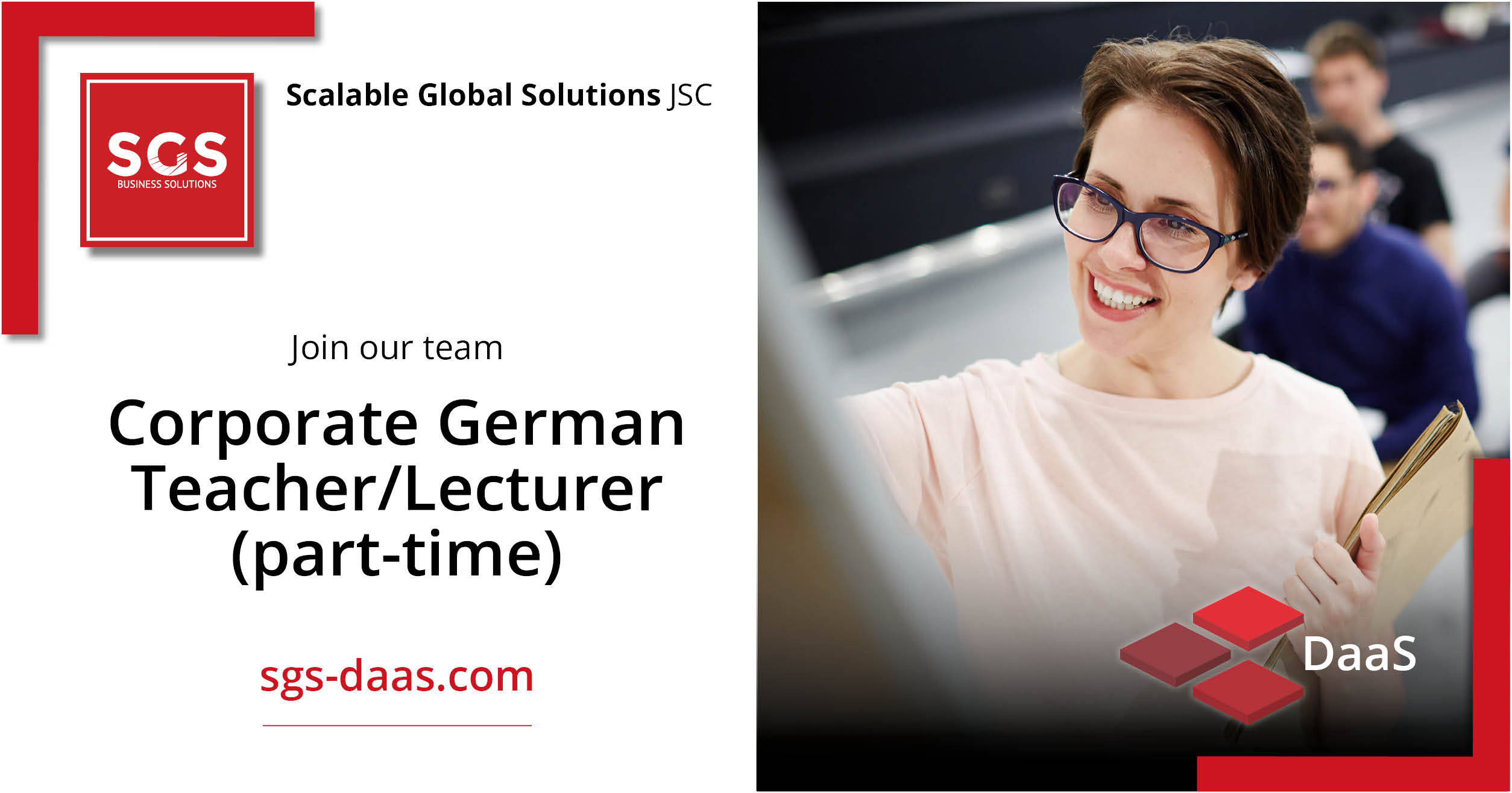 Company overview
Scalable Global Solutions d.d. (SGS) is a Croatian-based company shaping the Future of Work. Thanks to DaaS (Department as a Solution), SGS enables international small and medium-sized companies to select, create, implement, manage, operate and move their local teams and departments into Croatia. SGS is where ambitious and skilled talent finds full-time opportunities for fast-growing and impactful companies across Europe. 

Our client is one of the top leading consultancy organizations in Europe, with headquarters in Germany, they have recently chosen Zagreb to place their offices and continue growing across the continent. Their focus is on the SMB, SME, and Enterprise clients market. We in SGS built their Croatian-based team, here in Zagreb. Their client's focus is to digitize the business processes: from the joint elaboration of customized 'big pictures' to the practical implementation of projects. The digitalization and automation of business processes along the entire value chain ensure competitiveness for our customers. Since 1986 the company has grown to more than 800 employees. Our employees' process-related know-how and innovative flair, combined with the expertise gained from 30-plus years of successfully undertaking international projects in various sectors, make us a competent partner. The company is present in Germany, Austria, Switzerland, Paris, Straßburg, the Netherlands, the United States, and China.
Position Title
Corporate German Teacher/Lecturer (part-time)
Level
Skilled Non-Management
Language Skills
German C1/C2
Professional Skills
German language proficiency

patience and perseverance

instruction skills

classroom management
Education (min)
MA in German Literature & Language

Sector
Bussines consulting
Role description
 • teaching German from level A1 - B2 on a professional level and for that specific business field - in all aspects (speaking, listening, writing, and reading)
• preparing lessons that meet core objectives and principles and are in line with the curriculum goals and related to the German culture
• developing additional course materials for participants (handouts, essays, and additional homework assignments)
• evaluating students performances, including grading homework assignments, tests and making notes of how well students participate in discussions
• teaching grammar and syntax, vocabulary and word usage, and other principles of the German language
• encourage students verbal skills including reading out loud, discussion, and debate
• improve writing, listening, and reading skills with appropriate additional tasks
• preparation, marking, report writing, and all other administration related to the teaching of the subject(s).
Competencies
advanced knowledge of German in speech and writing

proficient communication skills

experience in teaching a foreign language to non-native speakers

completed formal education as a German language teacher

Personal characteristics
emphasized sense of communication and work ethics

emotional stability, perseverance, and proactivity

team player