Full Stack Developer (m/f/d)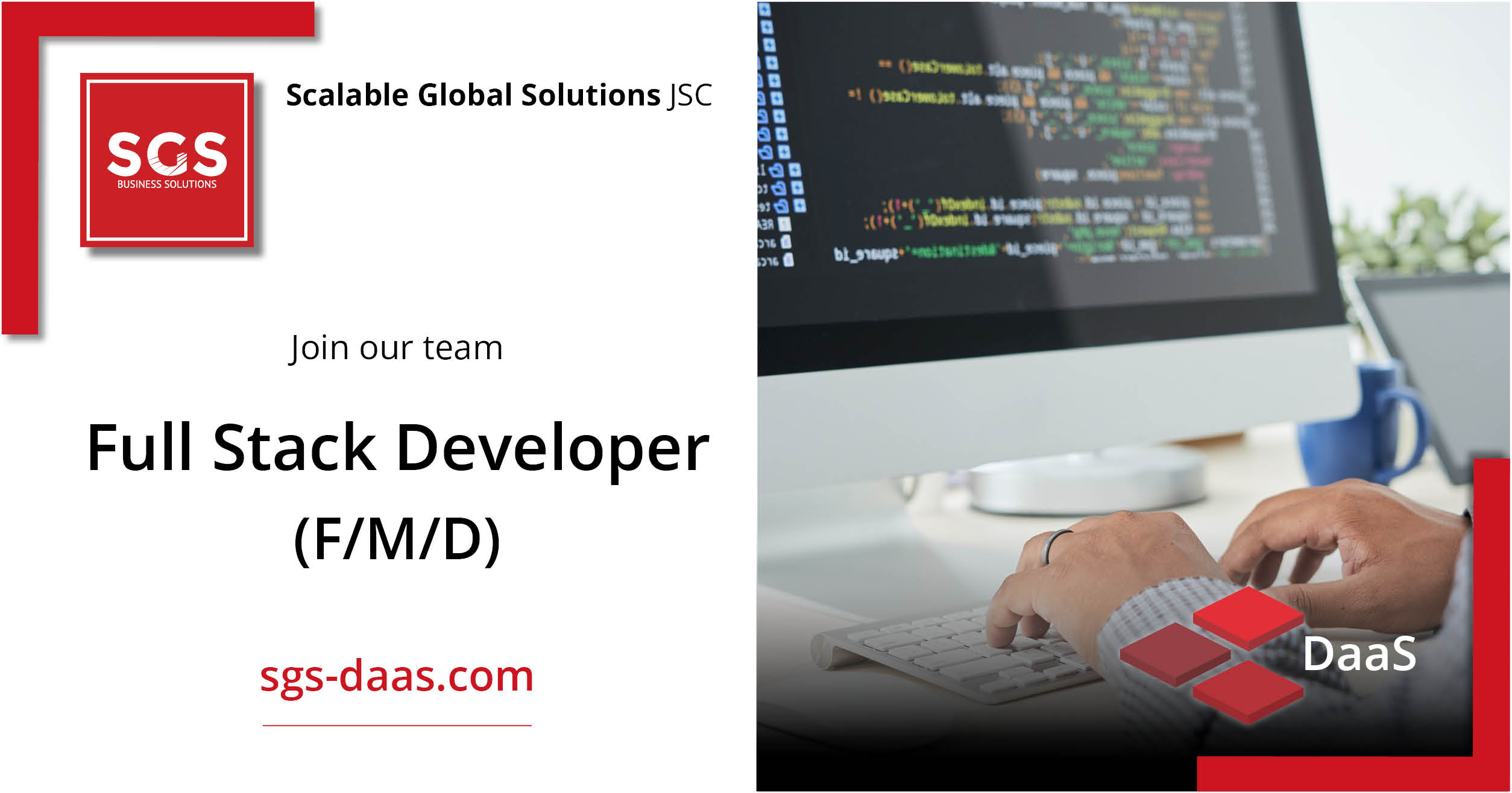 Company overview
Scalable Global Solutions d.d. (SGS) is a Croatian-based company shaping the Future of Work. Thanks to DaaS (Department as a Solution), SGS enables international small and medium-sized companies to select, create, implement, manage, operate and move their local teams and departments into Croatia. SGS is where ambitious and skilled talent finds full-time opportunities for fast-growing and impactful companies across Europe.
We work with a global market leader and innovator of hardware and software solutions for embedded controller software development in the Automotive and Aerospace industries. In 1988, it was founded in Germany, employing over 2,000 dedicated people worldwide who are committed to making embedded controls software development efficient. They are seeking creative and motivated professionals for their Osijek office. Control prototyping, Hardware-in-the-Loop simulations, and other exciting and technologically cutting-edge product development projects await you.
Position Title
Full Stack Developer (f/m/d)
Language Skills
English B2/C1
Professional Skills
Looking for an exhilarating Full Stack Developer role that lets you make a tangible impact on the future of mobility? Join our agile team and take on exciting challenges that will keep you engaged and motivated every day!
With us, you'll have access to comprehensive mentorship and work alongside highly trained and enthusiastic colleagues who are eager to collaborate with you. You'll enjoy flexible working hours, the option to work remotely, and cutting-edge IT equipment that will help you work efficiently and effectively.
Our great working atmosphere and continuous training and development opportunities will keep you motivated and inspired, so you can keep growing and evolving in your role. Don't miss this amazing opportunity to unleash your potential and make a meaningful contribution to the world of mobility!

The perfect candidate has:


Experience or knowledge in web development, ideally with knowledge of React, GraphQL, and technologies such as Docker, Kubernetes, and SQL databases.

Interest in agile software development and a desire for continuous self-improvement.

Openness, innovation, and a sense of responsibility are qualities that fit perfectly into our team.

Thrive on challenging tasks and willing to explore new paths with colleagues.

Given the freedom to think outside the box, while still working collaboratively.

Proficient in both written and spoken English.
Education (min)
Bachelor´s or Master's degree in Computer Science, Engineering, or comparable
Willingess to Travel (%)
20%
Sector
Cloud ICT solutions
Contract
Full-time (indefinite)
Role description
Tasks and responsibilities:
Design and implement features as part of an agile team.

Take responsibility for developing exciting and innovative concepts or prototypes.

Develop web frontends with a focus on modern user experience aspects.

Develop backend services according to the high-quality standards of the company.

Work collaboratively with the team to ensure seamless integration of features and services.

Ensure efficient and effective testing of developed features and services to maintain quality standards.

Participate in code reviews and provide constructive feedback to maintain code quality.

Continuously improve skills and knowledge of new technologies to enhance performance and achieve company objectives.
Personal characteristics
·         PERSONALITY:
·      Strong analytical and problem-solving skills
·      Independent and reliable way of working
·      Communication and team skills