IT Recruitment Consultant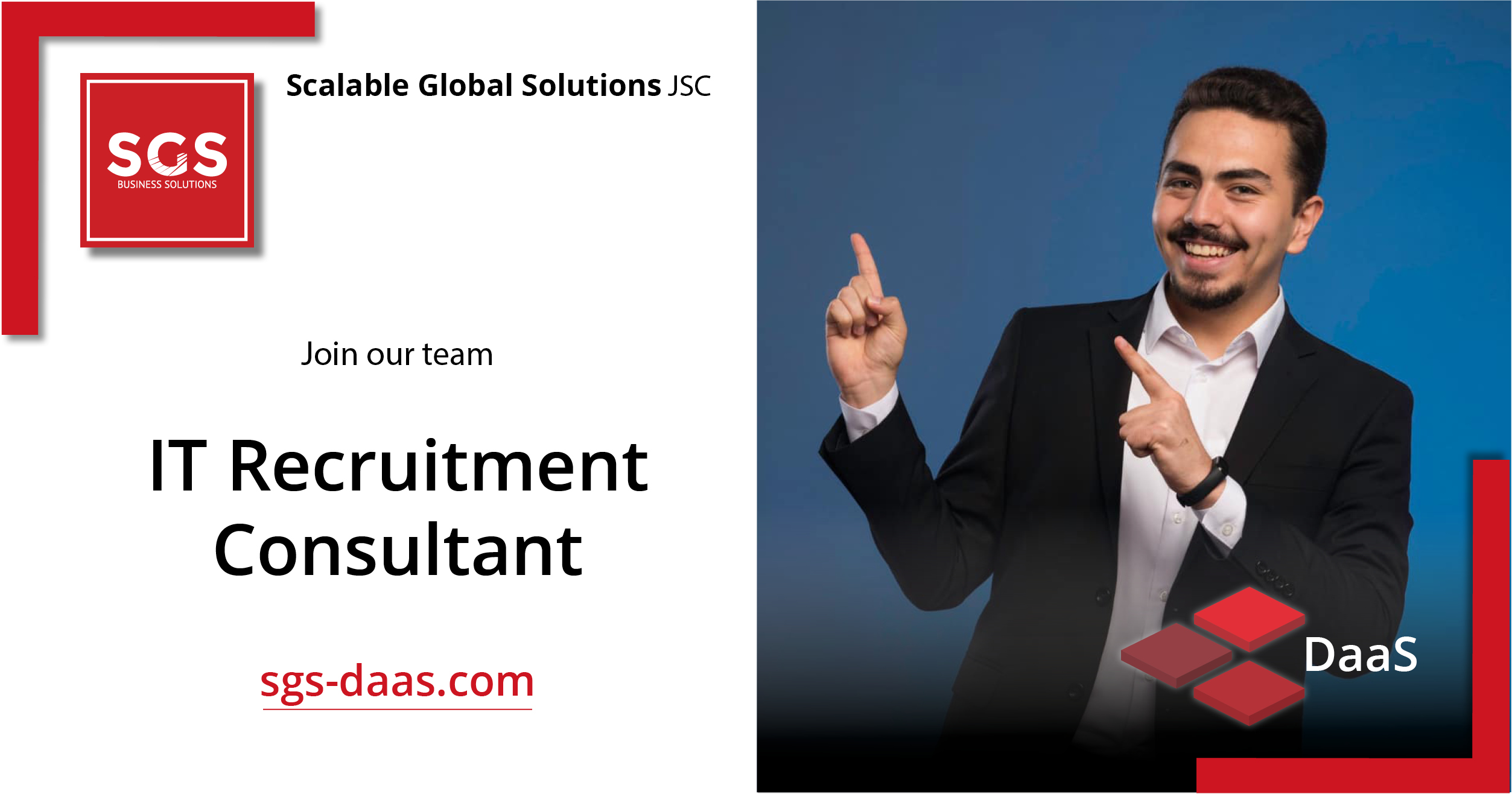 Company overview
SGS - Scalable Global Solutions - is the first DaaS "Department as a Solution" Provider.


We blend EMEA and NEARSHORE resources to provide comprehensive business solutions that are highly cost-efficient. The creation of "DaaS" [Department as a Solution] is the new disruptive solution for companies and their workforce, taking the "Virtual Workforce" concept to the next level, allowing our clients to increase productivity while reducing costs simultaneously. 


We are currently looking for a Recruitment Consultant with an IT background that will join and work for one of our clients based in the North of Europe. Their primary focus is to find the right candidate for the right position in digital business anywhere in the world, helping their professionals and clients to grow. A fresh, agile, and modern recruitment agency, that uses the newest technology and artificial intelligence.

If you are an ambitious and self-driven individual passionate about HR and people, then we have the perfect job position for you. Join us and let's grow together.
Position Title
Recruitment Consultant (IT Background)
Level
Skilled Non-Management
Language Skills
Fluent in English and/or Finish
Professional Skills
The perfect candidate must have: 
Understanding the terminology of ICT, coding, project management, and digital marketing 
3+ years of experience as Talent Acquisition Manager or similar HR role (preferably in IT) 

You are sensible at acquiring the right people for the correct positions 

You know how to multitask and have excellent interpersonal and communication skills 

Outstanding written and spoken English (Finnish is a plus) 

Good at proactively seeking solutions and new ideas 
Willingess to Travel (%)
10%
Sector
Headhunting, Consulting, Recruiting, AI, ML, Talent Search, Active Search, Attract & Retain Talent, Digital HR, HR, Talent Development, and Talent Identification,IT,Recruitment
Contract
Full-time (permanent)
For you to flourish with us, we can offer you: 
Exciting work environment and excellent dynamics within the company 

Relocation package 

Flexible working hours 

Permanent employment 

Education budget 

Hiring Bonuses 

Sponsored gym membership 

Pet-friendly company 

Snacks and free beverages  
Role description
You can help us with these duties and responsibilities:  
Develop a sustainable talent acquisition, hiring plans, and strategies for the best candidates in the market 

Plan and perform the whole recruitment process independently

Participating in talent search within assignments from our clients

Represent our client at career and college fairs, and similar events 

Being creative and resourceful with new sourcing methods for hard-to-fill roles 

Constant communication with candidates and clients

Closing deals and managing accounts
Competencies
We will be seriously impressed if you are good at these skills:
Good organizational and administrative skills

Excellent skills in using B2B tools like LinkedIn, Xing, and alternatives

Excellent written and verbal communication skills

Good interpersonal skills

Being able to deal with various projects at a time, problem-solving skills

Excellent data processing and IT skills

Strong attention to detail

Sales skills is a plus
Personal characteristics
Result orientation: clear understanding of what it means and takes to deliver results on time, within budget, and within quality

Analytical skills: excellent analytical and communicative skills

The applicant has healthy self-confidence and quickly understands and evaluates the given situation 

Open-minded and driven by success

Strategic orientation: able to work and integrate himself into new and challenging projects

Collaboration and influencing 
 If you are ready to be part of this diverse and unique team, don't hesitate to send your application, we are willing to know you.