Junior Channel Account Manager (F/M/D)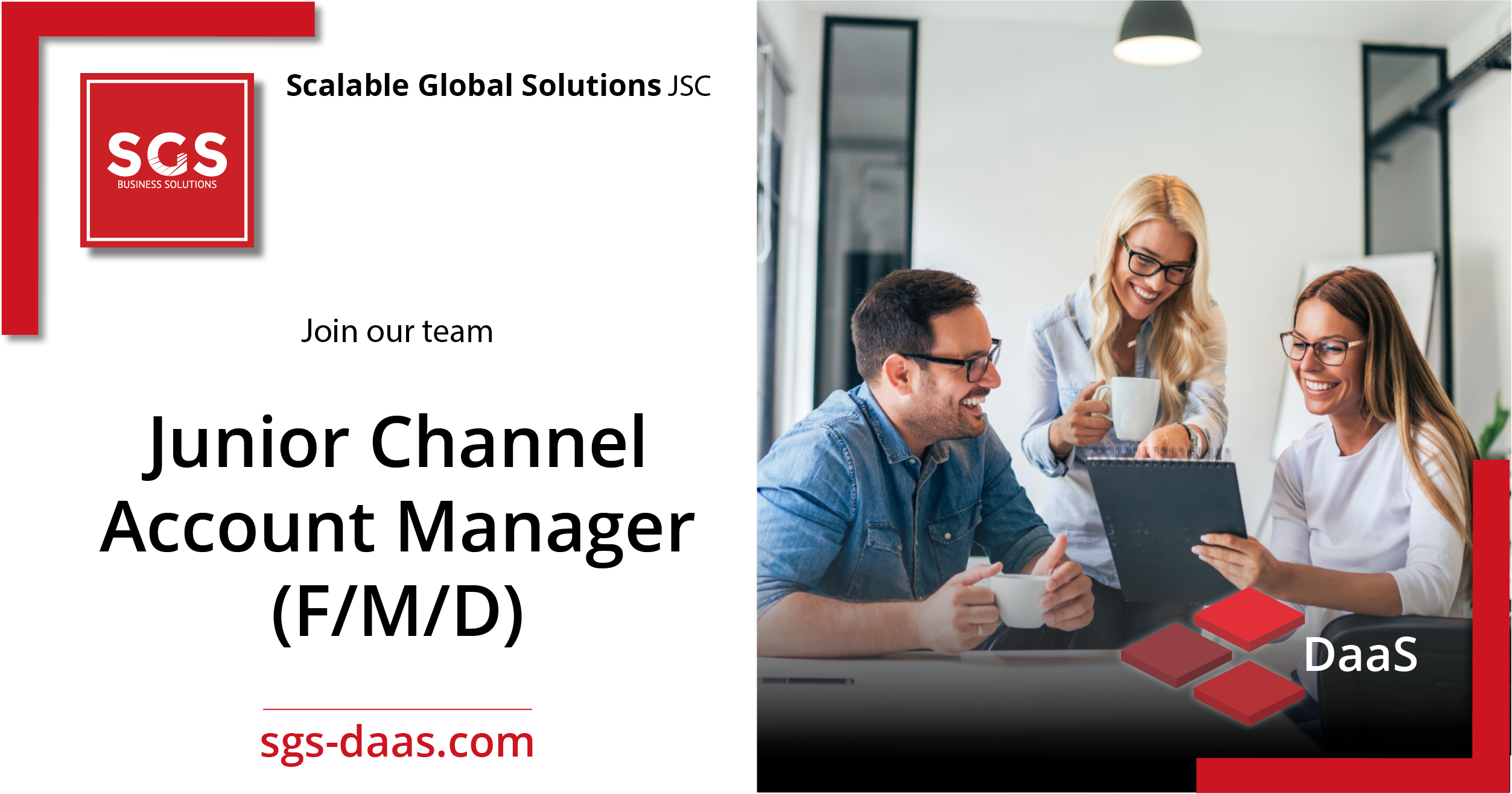 Company overview
Scalable Global Solutions d.d. (SGS) is a Croatian-based company, we blend EMEA and NEARSHORE resources to provide comprehensive business solutions, shaping the Future of Work for employees while simultaneously providing comprehensive business solutions that are highly cost-efficient for our clients. 


SGS is a Hight-Tech Software and the first DaaS 'Department as a Solution' provider. DaaS enables clients to build high-quality and tailor-made teams in Sales, HR, Operations, Back Office, IT, Finance, Marketing, and Customer Care. The department is under the direct lead and management of the client while reducing administrative procedures and costs. 


At the core of our DNA, SGS has earned a reputation for creating high-impact solutions, helping our clients increase significance, efficiency & profitability. DaaS will bring a global paradigm shift by serving as a progressive advisor & facilitator to our client's professional endeavours. 


MISSION: "We WORK & YOU GROW" - SGS optimizes the efficiency & effectiveness of our client's value chain and business success. We enable our client's business success and growth with our DaaS "Department as a Solution". We help them to move into the 21st century. Our focus is to drive, create and optimize our client's impact in their market by making them more successful. 
VISION: To become the global DaaS provider. To change how future generations will work, live & play—introducing a new concept to clients that enable them to become more successful and competitive. 
Position Title
Junior Channel Account Manager (F/M/D)
Language Skills
English-C1
Professional Skills
Your Qualification:


Ability to work independently and thrive in a fast-paced environment.

Flexibility, adaptability, and quick to learn new skills.

Positive outlook and a strong ability to take responsibility and be accountable for own actions.

Fluency in English language

Bachelor's degree 

Bonus: 
Previous knowledge of CRM software


Any additional language is a plus


Location Skills
Zagreb, Croatia
Education (min)
Bachelor in Business administration or similar education 
Working benefits:
Relocation package

Flexible working hours

Permanent employment

Possibility to participate in educational workshops

Snacks and free beverages
Role description
Implementation of a strategic network of channel partners in predefined geographic regions such as Scandinavia, the UK, Ireland, DACH, Benelux, France.

Maintain existing relationships to channel partners in software, hardware, or IT consulting services.

Coordinate any arising issues between the SGS team and the Channel Partner's team. 

Coordinate with partners to develop a joint business plan to mutually agree with business objectives.

Participating in the development and implementation of new strategic plans.


Collaborating with the Channel Sales team to identify new Channel Partner leads and Channels Sales plans.

Reporting to the CSO

Conducting Channel Sales research and identifying new Channel Partner opportunities.

Documenting processes and maintaining Channel Sales records.

Informing new and existing partners of promotions, upgraded product lines, and offers.


Providing ongoing account support to existing partners assigned by the sales team.
 

Competencies
Excellent communication skills

Business literacy in Croatian and English, German/Italian/French is a plus

Time management

Organization skills

Attention to detail

Accountable

Persistent
Personal characteristics
Result orientation: The ideal candidate has a clear understanding of what it means and takes to deliver results on time, on budget and on quality.
Analytical skills: The ideal candidate has excellent analytical and communicative skills. The candidate has healthy self-confidence and easily understands and evaluates the given situation.
Open-minded and driven by success: He/ She has the ability to quickly drive ideas into solutions while helping to provide input and help the team.
Strategic orientation: 
The candidate is quickly able to work and integrate himself into new and challenging projects.