Solution Architect Microsoft Dynamics 365 CE & Power Platform (F/M/D)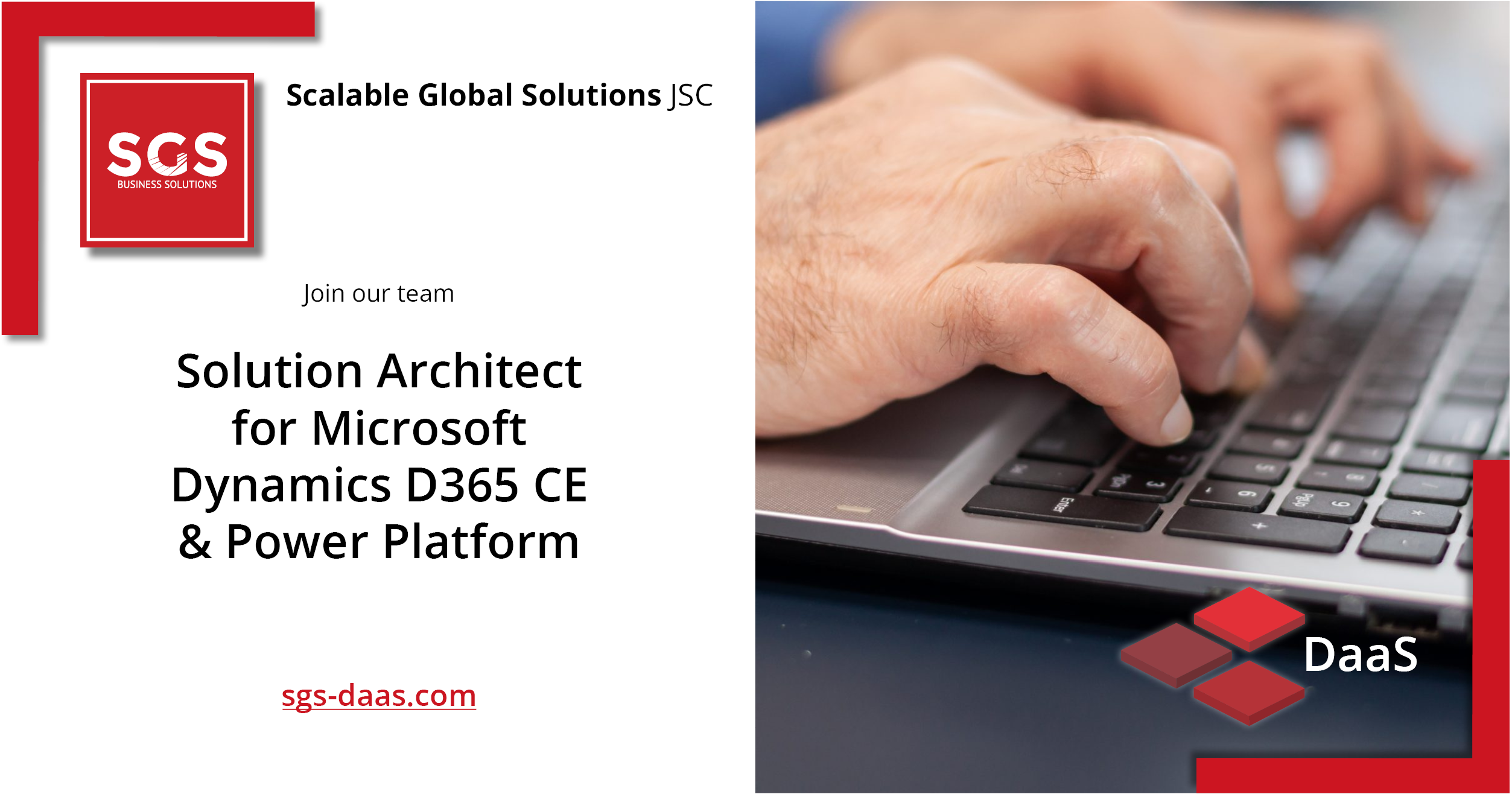 Company overview
Scalable Global Solutions d.d. (SGS) is a Croatian-based company shaping the Future of Work. Thanks to DaaS (Department as a Solution), SGS enables international small and medium-sized companies to select, create, implement, manage, operate and move their local teams and departments into Croatia. SGS is where ambitious and skilled talent finds full-time opportunities for fast-growing and impactful companies across Europe. 

Our client is one of the top leading consultancy organizations in Europe, with headquarters in Germany, they have recently chosen Zagreb to place their offices and continue growing across the continent. Their focus is on the SMB, SME, and Enterprise clients market. We in SGS built their Croatian-based team, here in Zagreb. Their client's focus is to digitize the business processes: from the joint elaboration of customized 'big pictures' to the practical implementation of projects. The digitalization and automation of business processes along the entire value chain ensure competitiveness for our customers. Since 1986 the company has grown to more than 800 employees. Our employees' process-related know-how and innovative flair, combined with the expertise gained from 30-plus years of successfully undertaking international projects in various sectors, make us a competent partner. The company is present in Germany, Austria, Switzerland, Paris, Straßburg, the Netherlands, the United States, and China.
Position Title
Solution Architect for Microsoft Dynamics D365 CE & Power Platform [F/M/D]
Language Skills
English C1, German B2
Professional Skills
You would be the perfect fit for our company if you possess the following qualifications:

• 2-3 years of experience as a Solution Architect with expertise in Dynamics D365 CE & Power Platform
• In-depth knowledge of sales, customer service, field service, and/or marketing processes

• Familiarity with agile project methodology and hands-on experience with DevOps/JIRA
• At least 5 years of experience in implementing business solutions
• A Master's degree in computer science or equivalent practical experience
• Fluency in both English (C1 level) and German (B2 minimum)
• Bonus: knowledge of SAP
Education (min)
Master's Degree in Computer Science or equivalent experience


Willingess to Travel (%)
20%
Sector
Busines Development,Cloud ICT solutions,Software Development
Contract
Full-time (Indefinite)
What makes this job unique: 
•
A friendly, collaborative, and energetic team atmosphere
• Flexible working hours and the ability to telecommute
• Our client is a "Great Place to Work" certified and highly rated on Kununu as a "Top Company"
• The opportunity to work with cutting-edge and innovative technologies
• Effective and efficient internal communication
• Exciting international projects and clients
• A permanent position with stability
• Access to an education budget
• Free German language lessons during work hours, taught by an in-house instructor
• Relocation package
• Complimentary beverages and snacks
• A competitive salary package with outstanding benefits
•       Multisport card 100% paid

Role description
Embark on an exciting journey as our next:  

•    Technical Architecture and Solution Design Expert: Shape the future of customer projects by defining the technical blueprint and designing innovative solutions.
•    Digital Transformation Leader: Revolutionize customer processes with Microsoft Power Platform/Microsoft Dynamics 365 CE and lead the charge in digitalization.
•    Trusted Client Advisor: Provide expert consulting to national and international clients throughout every phase of their projects.
•    Agile Implementation Coordinator: Direct and oversee agile teams to ensure smooth and seamless delivery.
•    Business Requirements Transformer: Convert customer needs into tangible technical tasks, bridging the gap between business and technology.
•    Visual Communication Master: Bring technical concepts to life using tools like VISIO and effectively communicate your vision.
•    Customer Success Handover Specialist: Ensure smooth transition of the implementation to the customer, delivering long-lasting impact.
•    Technical Implementation Responsible: Take ownership of the technical aspects of the project and drive its successful completion.
•    Guidelines and Knowledge Transfer Champion: Define best practices and facilitate the transfer of expertise to your team and colleagues.
•    
Collaborative Presales Partner: Work closely with presales to provide technical support and drive new business opportunities.
Personal characteristics
An open-hearted explorer, thriving in a supportive and collaborative workplace.

A self-starter, always seeking to learn, grow, and evolve.

A master of efficiency, tackling challenges with your sharp time management and problem-solving skills.

A positivity powerhouse, fueling your team with motivation and inspiration.A wise mentor, guiding less-experienced colleagues with kindness and expertise.

A growth-focused innovator, embracing mistakes as opportunities to learn and improve.