Student – Talent Searcher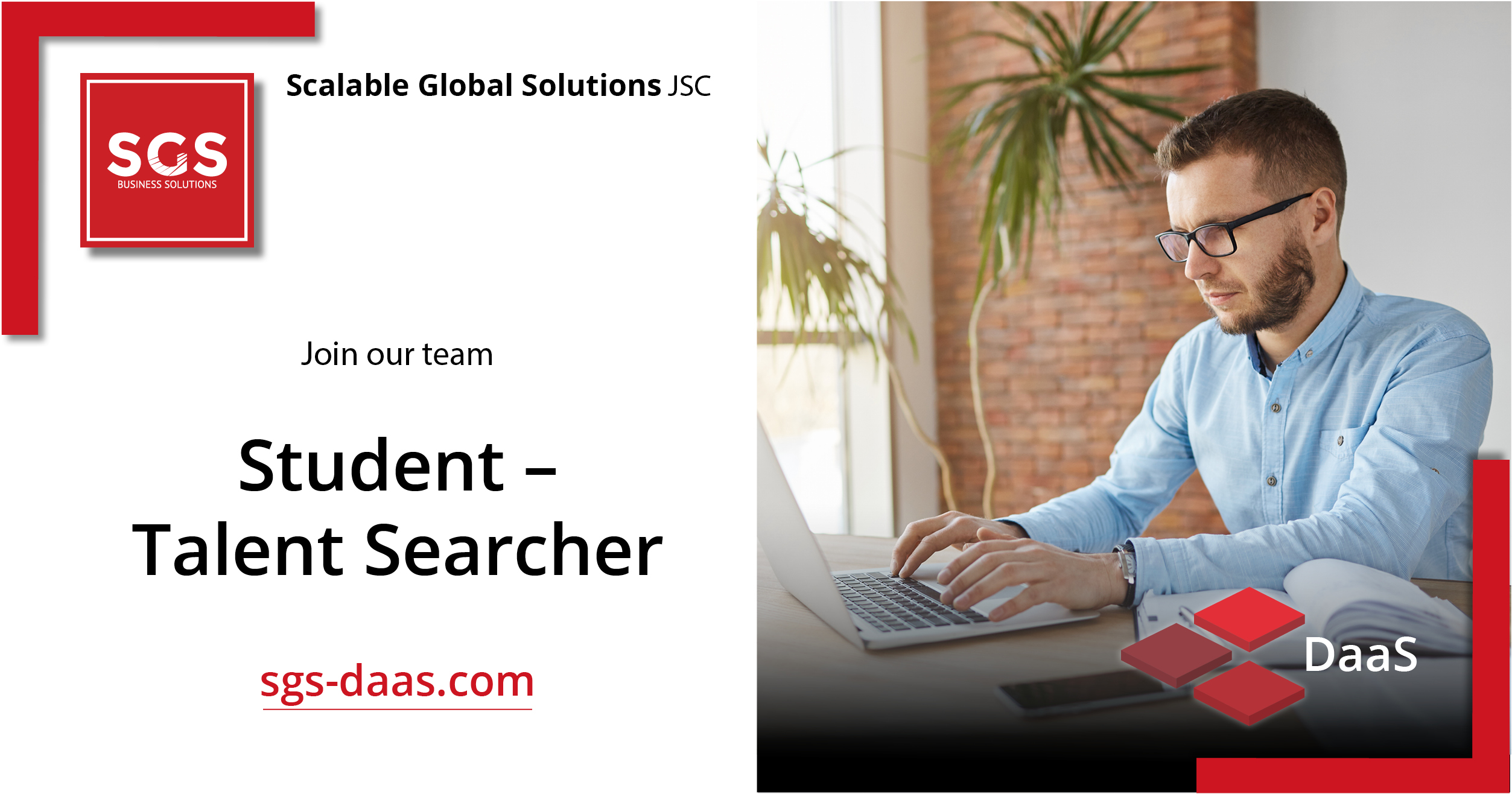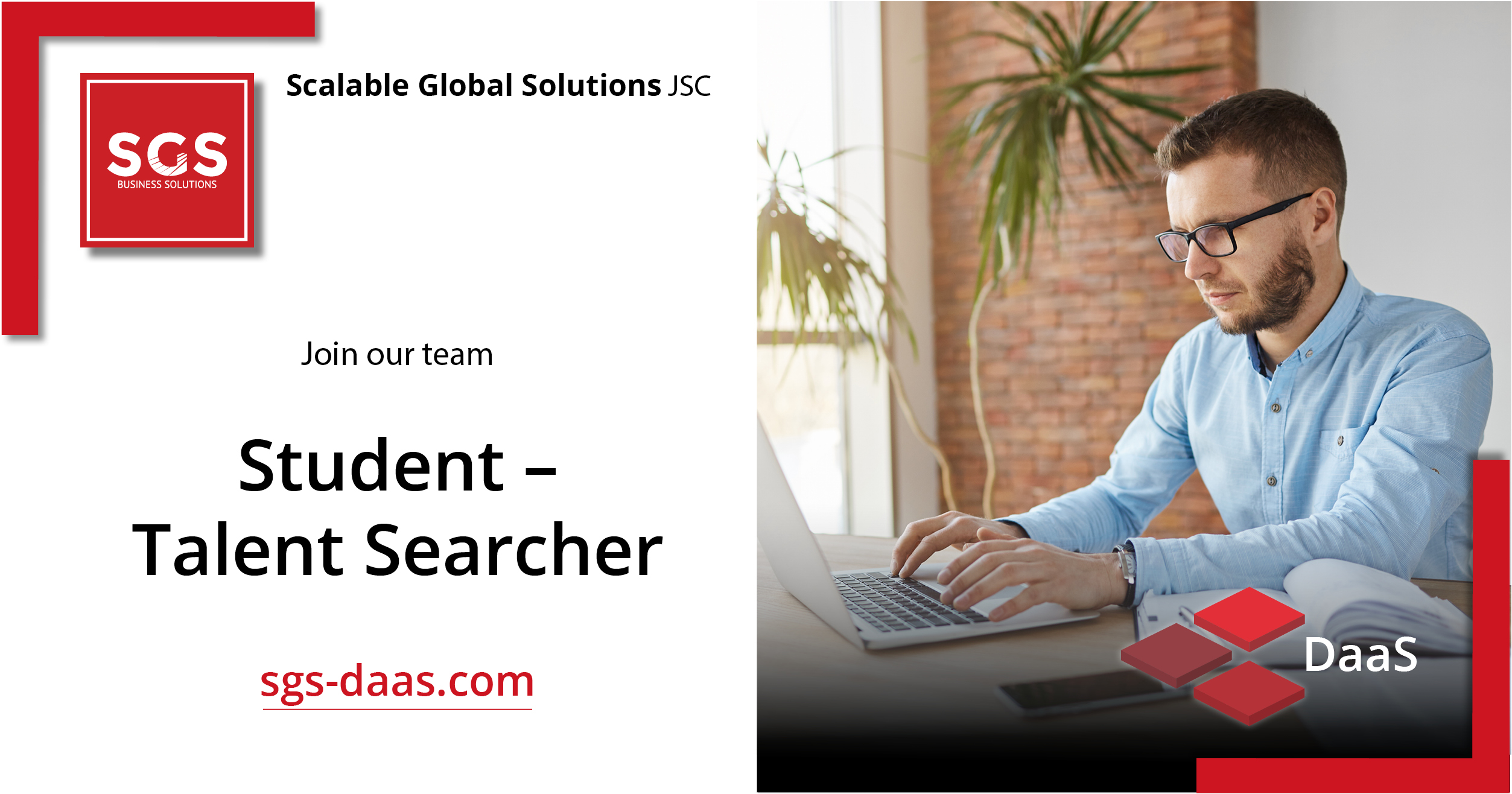 Company overview
Scalable Global Solutions d.d. (SGS) is a Croatian-based company, we blend EMEA and NEARSHORE resources to provide comprehensive business solutions, shaping the Future of Work for employees while simultaneously providing comprehensive business solutions that are highly cost-efficient for our clients. 


SGS is a Hight-Tech Software and the first DaaS 'Department as a Solution' provider. DaaS enables clients to build high-quality and tailor-made teams in Sales, HR, Operations, Back Office, IT, Finance, Marketing, and Customer Care. The department is under the direct lead and management of the client while reducing administrative procedures and costs. 


At the core of our DNA, SGS has earned a reputation for creating high-impact solutions, helping our clients increase significance, efficiency & profitability. DaaS will bring a global paradigm shift by serving as a progressive advisor & facilitator to our client's professional endeavours. 


MISSION: "We WORK & YOU GROW" - SGS optimizes the efficiency & effectiveness of our client's value chain and business success. We enable our client's business success and growth with our DaaS "Department as a Solution". We help them to move into the 21st century. Our focus is to drive, create and optimize our client's impact in their market by making them more successful. 
VISION: To become the global DaaS provider. To change how future generations will work, live & play—introducing a new concept to clients that enable them to become more successful and competitive. 
Position Title
Talent Searcher (student)
Level
Skilled Non-Management
Language Skills
English is a must, German is a benefit
Professional Skills
Conceptualize, create, and execute

Rise to any challenge and offer solutions

Have a passion for in-depth research and project work that is systematic and detailed

Have strong attention to detail, organizational skills, and time management

Able to flex and problem-solve to manage competing demands in a driven environment

Results-oriented self-starter with a track record of personal accountability, strong work ethic, and integrity
Location Skills
Zagreb - Office
Education (min)
You are a student, have 40 hours per week to spare, willing to work in a fast-growing company. Enough for us 🙂
Sector
Headhunting, Consulting, Recruiting, AI, ML, Talent Search, Active Search, Attract & Retain Talent, Digital HR, HR, Talent Development, and Talent Identification
Contract
Full-time (indefinite)
As our first talent searcher, you will be challenged to be creative, leading key market research and talent mapping projects to build deep, long-term diverse talent pipelines.
Most significant to your success will be strong market research, sourcing techniques, a love of analytics, and the ability to influence.
Role description
Identify target populations of candidates via the recruitment system database, online databases (such as LinkedIn), conference websites, Google searches, other search engines, and information gleaned from other market research.

Form close relationships with hiring managers to ensure clear candidate/interviewer expectations

Source applicants through online channels, such as LinkedIn and other professional networks

Identify, contact, and refine the most suitable talent from available candidates

Assess candidates' information, including C.Vs., portfolios, and references

Attend briefing sessions with Recruiters and Hiring Managers to understand the requirements

Maintain an up-to-date candidate database and CRM

Request referrals from current employees and external networks 
Competencies
Have excellent communication skills both written and verbal and able to communicate research within the team and engage with candidates with varying professional levels

Advanced MS Office user

Proficient in documentation processes and keeping up with industry trends

Interest in the IT industry is a plus
Personal characteristics
If you are driven, curious, analytical, and love to build something from scratch, we would love you to be our first searcher.