Responsibilities of a Salesperson
______
It all starts from sales – success in sales enables the development of the company. Your duty is to contact possible customers following the procedure determined by your department described in this document and other separate documents (Initial Call, Call invitation, Second call invitation, Meeting request, After meeting etc., all saved under the Sales Portal in the folder ISAM – Sales training & Old files).
The goal is to make as many contacts and calls in your region as calls generate meetings, and meetings can turn into new contracts, generating revenue.
The process of funneling: the number sinks during the process, from hundreds or thousands of contacted people to a couple of signed clients (example of 20-10-5% success rate).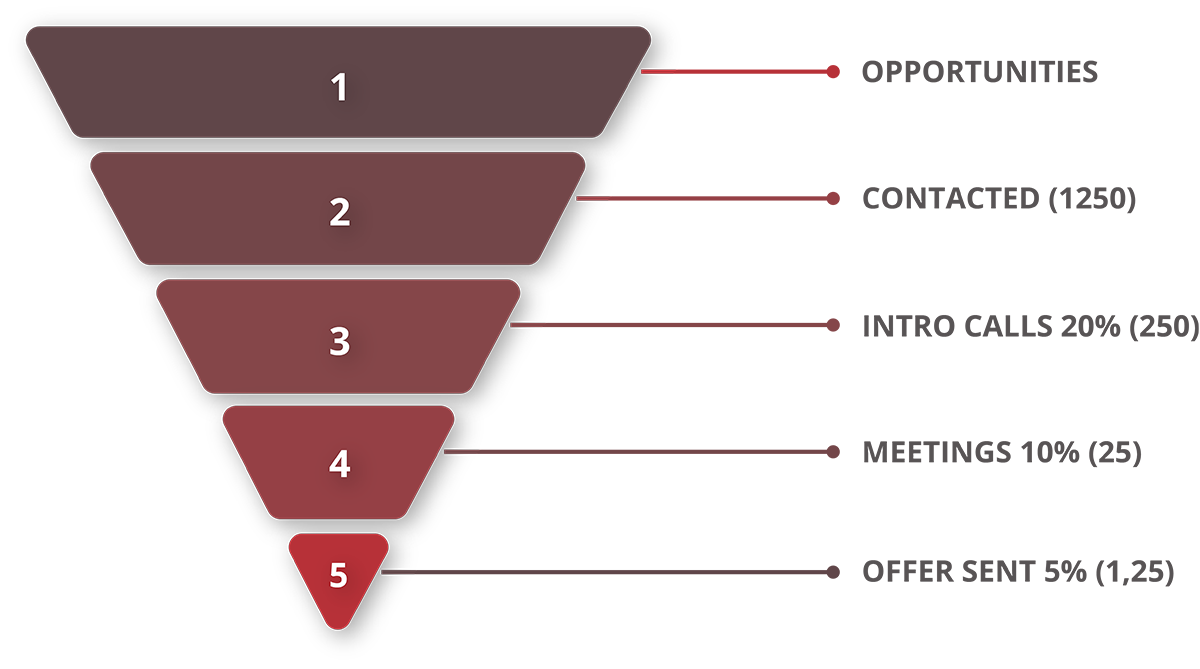 1250 (contacted) / 175 (average monthly working hours) = 7.1 contacted per hour
1250 (contacted) / 160 (smallest monthly working hours) = 7.8 contacted per hour
7-8 contacted per hour would be your goal target
Presenting to Different Audiences 
______
The key to any successful sales pitch is to know your audience. You must understand the motivations of the people you present to, or they will not be interested.                                        
Always present here. These are the only employees in the Client who are incentivized by ROI, PBT, EBITDA and Margin Contribution.
The contribution margin can be stated on a gross or per-unit basis. It represents the incremental money generated for each product/unit sold after deducting the variable portion of the firm's costs. The contribution margin is computed as the selling price per unit minus the variable cost per unit.
ROI, PBT and EBITDA are explained in the Acronyms section.
Approach decision-makers by asking pre-evaluation questions so you can get a clear picture of the company. Questions must not give the Client the possibility to answer with just "Yes" or "No". Here you can see examples of questions for every targeted person. Also, be careful with the questions because you can lose control of the flow of the introduction call.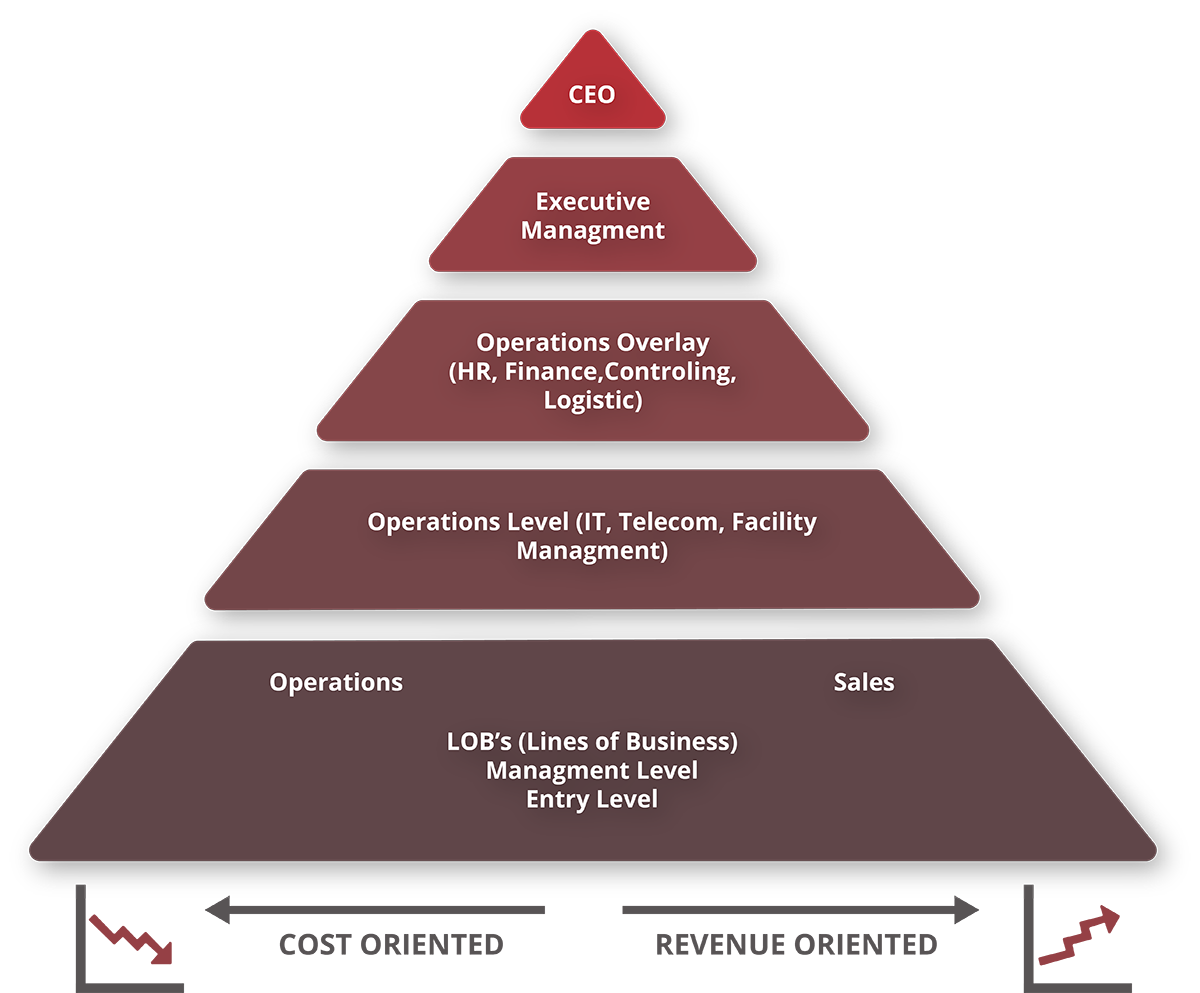 The 3 Questions & The AIDA Principle 
______
All presentations must answer 3 questions that no one will ask:
1 "Who are you, and what are you doing here?"
You could be anybody. What gives you the right to come here and talk to me?
The person you are presenting to does not know who you are. You could have just wandered in from the street. You need to establish yourself as being at the same level, or they will not listen to you.
2 "How do you help me achieve the goals given to me by my boss?"
Executive management members are incentivized to increase margin contribution.
As personnel are the highest cost for any business, reducing this cost will significantly impact profitability and thus bonuses. As SGS works in the interest of ROI, not OTE, we can help to increase margin contribution.
3 What is in it for me? [What makes my pocket bigger]
If we can increase our Client's margin contribution, the person you present to will be rewarded.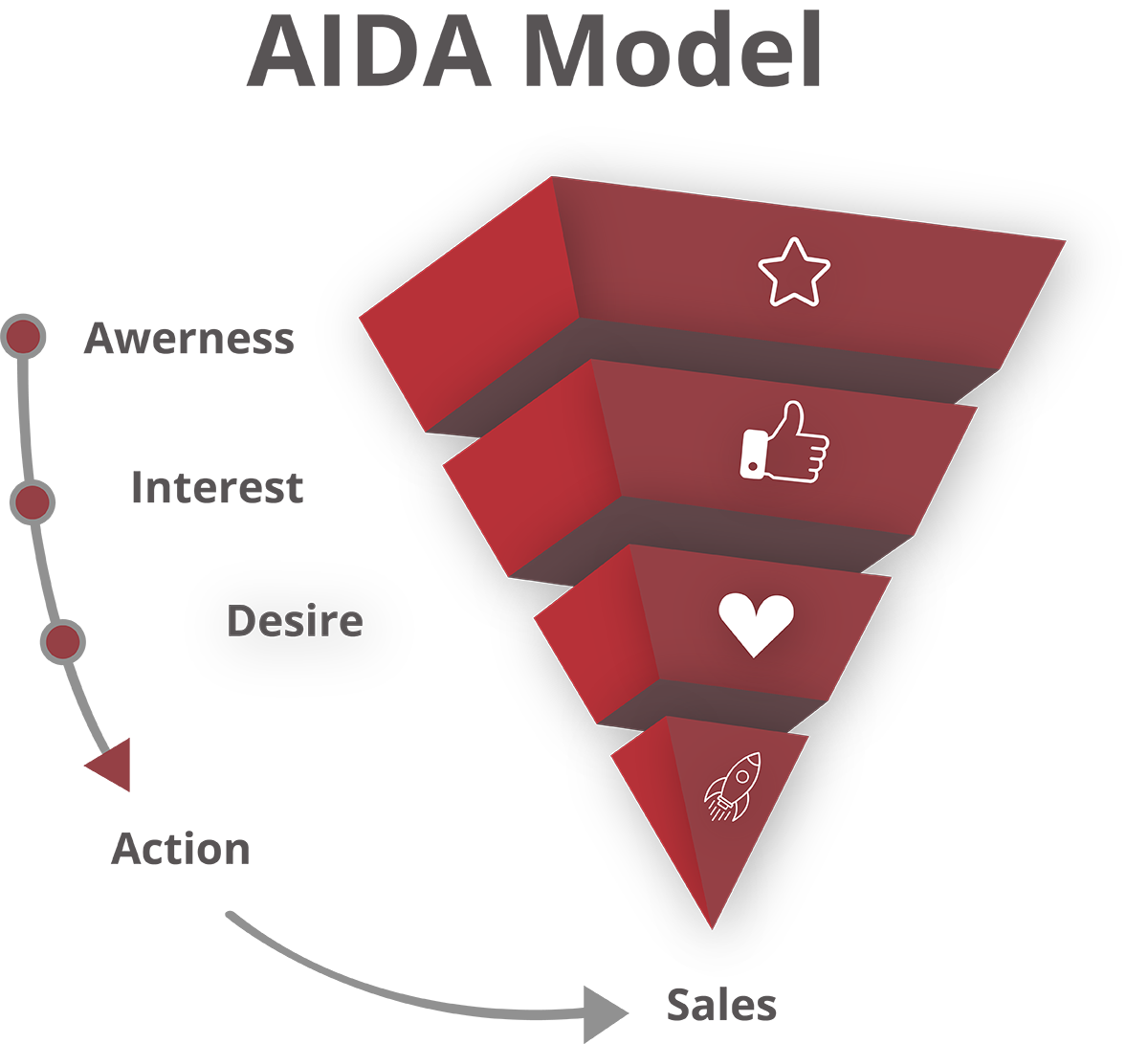 AIDA is an acronym used in marketing and solution selling that describes a standard list of events that may occur when a client engages with SGS. 
Company Owners – The Real Decision Makers 
______
Though most small businesses are formed as sole proprietorships or partnerships, some small businesses choose to register as corporations. Corporations provide several benefits, including tax shielding and limited liability. Corporations also allow an unlimited number of stockholders, making it easier to bring in investors. Any shareholder in a corporation is a partial owner of the company. Company "owners" could also be banks, investors, private people.
A private limited company must have at least one owner. This means that one person (or corporate body) can be the sole owner of a company. There is usually no restriction on the total number of owners a company can have during or after its incorporation at Companies House, unless specific provisions are included in the articles of association. Company owners are responsible for making important business decisions in exceptional circumstances that are beyond the scope of the directors' powers.
Their interest is long long-term sustainable growth but also benefits such as:
Payment of Salaries & benefits:
Salary and benefits as such are not a strategic capital payment or return on investment. It is a routine operational activity. In the case of large companies, the amount of salaries and benefits to the promoters or founders or directors is regulated by the norms for directorial compensation. The norms govern the payments to the top management for managerial remuneration. Even in the case of small private limited companies, the salaries and benefits of the executive directors are subject to the board's approval.
Payment of Dividend:
The dividend is the accurate (ordinary) means of compensating its shareholders for their equity investment. From the profits made in a year, a fraction is retained for the provision of increased working capital and any growth initiatives or any other liability; and the rest should of the amount be distributed to the shareholders. The ratio of dividend to the current market price of the company share is called the dividend yield. The dividend could be in the form of cash, stock, property, products, promissory notes, scrip, etc. The law highly regulates the payment of dividends, and dividend strategy is a key corporate strategy.
Buyback of shares:
The company can buy back its shares from the shareholders in compliance with the corporate laws. Buybacks are carried out to consolidate the holding of the long-term, strategic players in the company. For the company to pay for the buyback, it needs to have a very sound financial position.
Capital withdrawal:
Capital withdrawal is when a company reduces the paid-up capital by paying it back to the shareholders. This is a very complex process and is rarely seen in the industry.
Bonus share issue:
In the bonus issue, the company issues new shares to the existing shareholder in the proportion of their current shareholding in the company. A bonus issue is carried out to energize the shareholders and make the company's stock more liquid by reducing per share price.
Appreciation of share price:
It is up to the shareholders whether they want to start their shares or not. However, the company makes more and more profits every year and as its potential to become a more significant company increases, the price of shares increases. 
Sales Cycle – Closing the Deal 
______
The picture shows you how sales cycle usually looks like. In B2B sales we are contacting decision makers in companies, making sure we are contacting the right company, people and the way communication is unfolding. Our goal, as Account Manager, is to find the best way of how to get from right sales prospecting to closing the deal, which means winning the client.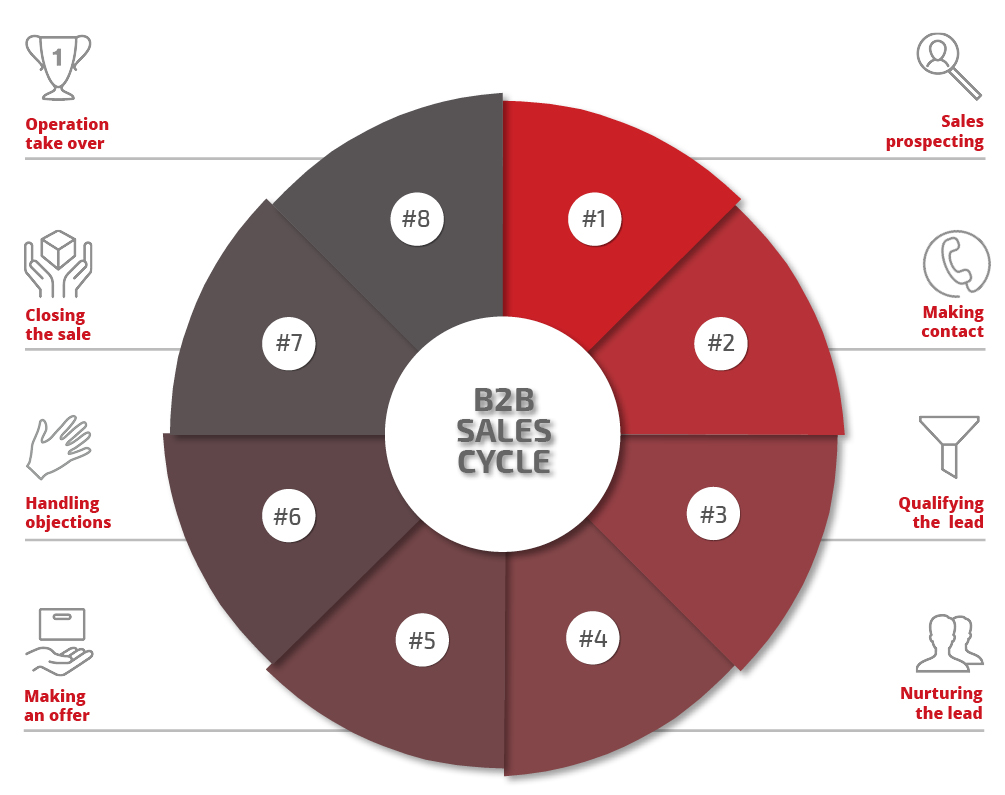 Sales Prospecting
We collect information about the potential clients we would like to reach out to and approach them in this stage.
This stage is similar to lead generation. In reality, it is much more than just that. With lead generation, you merely collect the contact information of your leads, whereas, with sales prospecting, you are reaching out to these leads and establishing whether they're interested in your company or not.
Making Contact
In this stage, we start to make outbound calls, send outbound emails or LinkedIn messages to leads in hopes of creating opportunities, reaching completely new people who are potential clients. 
a) Choosing the Account
b) Google the decision-makers – First the Head of departments like:
– Head of Sales
– Head of Marketing
– Head of HR
– Head of IT
– Head of Operations
c) If the company is too small or has aggregated decision-makers (i.e., sales and Marketing are in one person and Finance and HR are one person and IT and operations are one person), work with those. But if you are not getting anywhere with the people you have found because they are not decision-makers, you go the level up and contact top management. In that case, you contact: 
– Managing Director / CEO: the top person who is fully responsible for the outcome of the company as well as
– CFO: he is the second most powerful person in the company but not as busy by email as the CEO. 
d) Write to them via LinkedIn or Xing if he has any of the profiles
e) Arrange an Intro-call (see the Intro Call Guide) using the "Initial Call" Word template
Please also refer to Word Document "Initial Call "for further information because you also need to update the account in SGS One. 
The focus of the conversation would have the main objectives: 
– We would like to discuss an exciting business opportunity with a new cost-saving concept for companies."
– Or any of the alternative text that is provided in the contact document and by our mentor. 
Qualifying the Lead
After you have contacted your lead, the next step is to qualify them.
Are they the right fit for your business? And vice versa, is your business equipped to meet their needs? 
You would collect that info by conducting an intro call or meeting with your potential clients.
Next steps: 
– Check the available slots in Markus' or the associate's schedule and send the proposals to the customer, recommended 3-time slots.
– IMPORTANT: also, be careful not to arrange more than two in a row, if possible, leave 30 mins between the calls arranged
– If Markus is in a meeting on the day you want to schedule the Call, please leave at least 1 hour before and after the Call free
– It is also preferable to go the time around lunch (13:00-14:00) free
– To the customer:
– Use the template called `Call Invitation`:
– If the answer is NO:
– To the customer:
"Thank you for your answer. We wish you a lot of success in the future. "Etc. 
– Everything you do, update it in the existing Follow-up Call and Activity (If you already have one open, use it. Do not create a new one.)
– E.g., "I identified Mr X, here is his LinkedIn Profile link, now I'm waiting for his response." Or
– "He/She has accepted, I have sent him/her dates and times for a possible call. Waiting for response" or
– "Second call invitation sent." Etc.
– Always write the newest information on the top of the description field!
– E.g.:


If you cannot find the CFO, continue with other executives. When there is nobody left to search for, continue with different accounts! – and set the reminder for this one in 6 months.
Always continue the search until you have exhausted all your sources.
– If the contact does not answer today or tomorrow or after tomorrow, try to contact him for the second time
– If the connection does not answer three days after the second call invitation, search for another person to contact
– When you have contacted a person twice over email, and there was no answer, try to contact them again after several months
– If the contact wants to arrange a call on a specific date and time: send an Invitation via Outlook following the procedure:
Find that time slot that is free in Markus' schedule and double-click on it in your calendar
Subject: Introduction Call Mr./Ms. + Company Name & Mr M.B._SGS
Paste the contact's LinkedIn Profile in the description
Location: Skype or Phone
Paste the Skype IDs or phone numbers in the description or location
Set up Call reminder: 15 mins
Invite attendees: enter Markus' and the contact's email
While on the Call, these are some questions you can ask your leads: 
– What is their budget?
– What is their job title? This is to determine if they have decision making power.
– What are their pain points and needs? Once done, ask yourself if your service addresses all these needs.
– How urgently do they need your assistance?
Getting an idea of your lead's budget is particularly important for companies whose products or services are priced at a premium.
Always ask open, intuitive questions so you can get a clear picture of the company.
Questions must not give the Client the possibility to answer with just "Yes" or "No".
Below you can see examples of questions for every targeted person.
Also, be careful with the questions because you can lose control of the flow of the introduction call.

To have a better understanding of this topic, hop on the link HERE in section 2.
???
Nurturing the Lead
If your lead is not ready to "buy" our service immediately, start nurturing them to move them down your sales funnel slowly. 
A common mistake that companies make is trying to "force" a sale.
Anybody can sell, and in most situations, your prospects do not want this near the end of the consideration stage.
Your prospects merely want to be treated in a personalized manner and not just another person you are selling to among many. 
At the end of the day, they are the decision-makers.
So go ahead, do not push, but instead send them valuable resources like our weblink presentations or an email campaign to ensure these resources reach their inboxes on time. 
Making an Offer
By now, your potential clients would have seen your sent calculation for our managed service or tried the demo version of our SGS ONE.
By doing this, they are showing intent to use our service. In this stage, try "convincing" them how our product or service can solve their problems. 
Handling Objections
Once the offer is in the sent stage, there are chances that they will push back, and surface one or several objections to you, such as:
– "It's not our priority right now"
– "We're evaluating your competitor as well and might go with them"
– "Your service is complicated"
– "I've not heard positive things about your company"
– "Your service is lacking in some features"
– "I'll get back to you in some time"
– "I don't want to commit to a contract at the moment"
Your job is to handle these objections and convince them that choosing your company is the best solution.
If your lead says that the price of your product or service is on the high side, do the math and tell them how much return-on-investment (ROI) your product will bring them (or how much costs it will save). 
Closing the Sale
Once you have done handling your lead's objections, it is now time to close the sale.
After you have prepared the paperwork and forms, go ahead, and ask your lead a closing question. Find out the right time for implementation.
This is known as a direct approach. 
On the other hand, if they are not responsive due to last-minute changes to their plans or other circumstances, go for a softer approach.
Restate how the product or service can help address their pain points, and probably send them the case study again for some real-life growth your product brings to the table. 
Your approach depends on the temperament of your lead.
You should have a good read on this person by now; this helps you anticipate whether you will have more success with a direct or a gentle approach.
Operations Take Over
Searching for candidates
Manages office
Pushing the operation team
Presentation Criteria
______
Capability statement
A capability statement is an "upfront" explanation of your capabilities.
The purpose of this statement is to establish you at an "eye to eye" level with the Client.
They need to see you as an equal if they are going to take you seriously.
The Capability Statement is broken into 2 parts, Personal and Company. 
Personal 
Your capability statement should briefly explain the relevant experience relating to the person/people you are addressing.
If you have a Management background, explain this to the manager you are speaking with, they will be much more likely to listen to someone who has walked a mile in their shoes. 
Company 
The next section of the capability statement is regarding the company. You should briefly explain SGS's core competence/background.
Beware of going into too much detail or choosing a subject you will not discuss later in the presentation.
For example: do not mention "we have a global database" if you are not going to elaborate and explain this as a key selling point later. 
Introduction
Do not confuse the introduction with the Capability Statement (although they are usually mentioned together).
The introduction explains how the presentation will proceed, what will be discussed, and the overall purpose of the pitch.  
Main Topics Covered 
"It is better to do 1 thing right than 10 things wrong."
In any presentation, always leave time to explain a topic comprehensively. Resist the urge to list all the topics that make SGS great simply. Take 1 or 2 topics and explain them properly. 
Quality 
How was each topic explained? Where is there any area requiring further explanation?
Overall, how did the presentation feel? Pay careful attention to the way the different sections come together.
Was there a general flow throughout? 
Speed/Time 
This point is to do with pacing. Ask yourself; was there enough time to explain each topic in detail?
Would a greater number, or a lesser number, of topics have been of benefit? Did anything seem rushed?
During any presentation, you should always leave time for questions.
This allows the audience to become more engaged.
If you have a "tight" timeframe, always leave yourself time to ask for a follow-up meeting/exchange business card. 
Follow-up Meeting 
Yes or No? In the end, the only objective of a short meeting is to get a longer to follow up meeting.
The time frames used in this training are very narrow for practical reasons.
If you are ever given a concise time frame in the real world, your only objective should be to arrange, with the customer, a better time to present a more extended presentation.
Were you given this meeting, Yes or No?
Forecasting
The role of the Account Manager is to develop innovative sales strategies to achieve sales goals and properly forecast those goals. Responsibilities of an Account Manager is to be:
– Accountable
– Fully reliable
– Realistic
– Agile/Self-driven
Keep in mind that once the deal is closed, invoicing is typically 30 days delayed.
For example, if we sign a deal in March, we receive cash in April, so be realistic and plan your forecast conservatively.
When forecasting, make assumptions considering your communication with potential clients.
This process of estimating future revenue by predicting must be measurable.
Please find below various terms we use aligned to forecasting regarding the terms and stages of a forecast:
| | |
| --- | --- |
| Subject | Description |
| Close Date: | The date we can invoice the customer [based on contract terms]. |
| Lead – 10 % | A potential Project is under discussion; however, negotiations are in early stages. |
| Quotation Sent – 25 % | A prepared Project Agreement or Frame Agreement has been sent to the Customer. |
| Negotiations – 50 % | Negotiating requirements for a client service/project in preparation to be able to send an offer. |
| Offer sent – 60 % | Offer provided to the client after negotiations. |
| Negotiations completed – 70 % | Procurement, finance and legal approved sent offer. |
| Upside  (Quarter) – 80 % | There is an 80 % chance the project will be signed this quarter. |
| Commit (Quarter) – 90 % | There is a 90 % chance the project will be signed this quarter. |
| Closed Won – 100 % | The project has been signed. |
| Closed Booked – 100 % | The involving process is in place (task done by finance). |
| On Hold/ Cancelled – 0 % | On hold/cancelled |
| Closed Lost – 0 % | Lost |